The Artist
"When a woman feels beautiful, it is the most empowering feeling in the world, confidence allows you to take on adventures you never thought you could or would. And I knew I wanted to pass that on to others," Pradas says.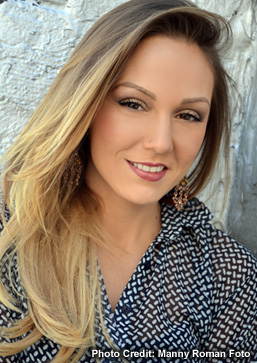 Kristyn Pradas is a renowned celebrity make-up artist, airbrush and spray tanning specialist with nearly 10 years experience in the makeup industry. She is certified in Airbrush, Camouflage and Bridal Makeup Application, and brings Fashion Editorial and Theatrical expertise.
A top-notch artist in every sense of the word, Pradas is a spray-tanning expert who prefers to create custom colors for each of her clients, as well as contouring their bodies to accentuate their best assets.
While her love of makeup began at an early age, Pradas honed her passion for makeup and spray-tanning for the last several years across salons and special events, including the coveted New York City Fashion Week, celebrity photo shoots, and more.
Her continuous desire to help women and men look their very best, coupled with her attention to detail and precision, a keen eye for style and color, and proficient application, its no surprise that Pradas has earned herself a number of accolades. She has been featured in Life & Style, Cosmopolitan, People, New Beauty Magazine, Self, and Allure Magazine as the number one spray tanner in New York City! Her editorial work has been seen in Cosmopolitan Magazine, Allure Magazine, among others; and she has worked on advertising campaigns with some of the most recognized brands in the world, including Victoria's Secret, Target, Vince Camuto and True Religion. Additionally, she has spray tanned today's hottest celebrities for photoshoots, Red Carpet events, TV appearances and more!
Whether working alongside a stylist at a fashion shoot, or creating a fantastic look for her everyday clients, Pradas has an ingenious ability to make people look their best, putting a special spotlight on their best features.
Today, Pradas is available for on and offsite spray-tanning and offsite makeup services – catering to each and every client's needs.

Kristyn Pradas was introduced to the world of beauty by her mother at a very young age. As Pradas remembers, her mother was always buying the best skin care and makeup – and visiting the best salons to get her hair "permed". It was then that Pradas began playing dress up with her mother's clothes and makeup. When Pradas entered her adolescence years and developed terrible skin, she too knew where to go – back to raiding her mother's makeup drawers all over again! All she wanted to do was hide her skin – which then led to trying new shades of eye shadows, new styles of applications, products and more. That's when her world and love of makeup really took off!
Pradas always loved how she felt when her makeup was done – giving her that boost of confidence needed during the most awkward times in a woman's life, adolescence in particular. Knowing how great she felt after experiencing it herself, Pradas knew she wanted to help other people feel just as good about themselves. Not only did Pradas become passionate about doing makeup – more importantly, she wanted to teach women how to apply their own makeup, so that they too could learn some simple techniques to use at home.